Holidays, finally! For many of us, holidays are the most important weeks of the year. Sun, action, fun, time spent with family and children … we are so looking forward to this. This is why we have compiled a list of hints and tips in order to make your family vacation a full success.
Choosing the perfect destination
The most important point on our list – where do we spent our family vacation? It is very important to choose the destination carefully. Here are some criteria that you should consider:
Which are the leisure activities that are important to the different family members? The perfect family vacation should provide fun for all of them.

Are there any health issues that would make staying at a given destination a problem?

How far/ how long do we need to travel to get there?

What kind of holiday suits us best – relaxing at the beach or perhaps a city trip with a lot of sightseeing?
Holidays at the beach – the all-time favorite
The turquoise sea, long beaches with pristine sand, the feeling of the sun on our skin – for many of us this is the perfect holiday. Families with little children, in particular, like to spend their family vacation at the sea because it has many advantages.
There are a lot of fun activities for children to be had: swimming, snorkeling, playing ball on the beach or in the water, building sandcastles … A family vacation at the sea is fun for children of all ages. While the little ones play peacefully in the sand, older children can enjoy themselves in the rolling waves. And as we all know, it's always good to have the children well occupied.
Plus, the maritime climate is very healthy and adds to the recreation factor.
If you consider spending your family vacation at the sea, it's helpful to check in advance what kind of beaches are to be found at your favorite holiday destination. When traveling with toddlers, beaches with shallow water and a wide stretch of sand like Platja d'Albercuix in Puerto Pollensa are best, whereas pebble beaches are less suited.
Teenager love activities with a lot of action, like scuba diving, surfing and so on. So, when looking for the perfect holiday destination check in advance what activities will be available on site.
Beach Holiday checklist for families
Leave towels at home for the younger children and purchase toweling dresses or robes instead.  It is much easier to just pop them on when they are wet and cold.
Talc or baby powder is great for removing sand off feet before putting your shoes on.
Get some shade – a beach umbrella is a must with children, even better is a UV tent as they can take a nap in it.
Take plenty of sunscreens.  Even if it says it is waterproof please reapply every time they have been in the water.
A string bag is perfect for carrying beach toys.
Take beach toys, bucket, spade, ball, flying disc and cars or diggers.
Take snacks and water. I pack my snacks in individual bags as sand will always find a way into an open bag.  The same with water, it is better to pack multiple bottles than one large one.
Take spare change for ice creams and beach snacks.  Never take a lot of cash or your cards.
If you want to take photo's – make sure it is just a cheap compact camera – sand and camera lenses do not mix well. Or even better take a waterproof one.
Hats are a must for everyone.
We always take a couple of UV suits so that they can use one against the other.
Beach shoes are great if you are going to a rocky area.
The checklist provided by Mumi in the Madhouse
Family vacation in the mountains
Family holidays in the mountains are almost always holidays filled with a lot of outside activities. It's the best occasion to fill your lungs with fresh and pure air and to discover the miracles of nature. Older children can enjoy themselves with sports like biking, hiking, and horseback riding while small children will be thrilled to visit a farm with a lot of interesting animals.
When you are a lover of nature and beautiful landscape away from the crowd, then a family vacation in the mountains is your best choice.
City trips with the family
Discovering cultural highlights in foreign cities is interesting, that is for sure, but it's only a good idea when traveling with older children. Spending a vacation with small children in a hectic city can be stressful.
Therefore, keep your city trip with the family rather short and take some time for leisure activities with the children.
Chose the perfect accommodation
Once the perfect destination for your family vacation has been found, the next step is to choose the ideal holiday accommodation. Several criteria are to be considered in order to make your vacation as perfect as possible.
When renting a holiday villa or apartment you will be completely independent. If you will be traveling with children, it may be of advantage to have your own kitchen. Even better, having your own private garden and/ or pool makes for happy children and parents.
Spending your family vacation in a hotel could be as well an interesting option. If you like to be pampered during your holiday, then go to a family hotel. Many hotels offer family rooms or suites. When traveling with toddlers, it's certainly cool to have a separate bedroom. This way, the little ones can dream sweet dreams while the parents enjoy a glass of wine and a beautiful sunset. If you consider staying in a hotel, it's always a good idea to check in advance the time for dinner and make sure it's not too late. Dealing with hungry and tired children in the evening could spoil the day.
When searching for the perfect holiday home or hotel, do also check which activities are available nearby. Is there a playground for the children, is it possible to rent bikes or are there hiking paths – this is the sort of question you should ask, depending on the activities the members of your family like to do.
Booking an accommodation that is suited for children
When booking your holiday home, please make sure that there are the most important accessories for children available, such as a cot or a high chair, and avoid villas with steep stairs for example.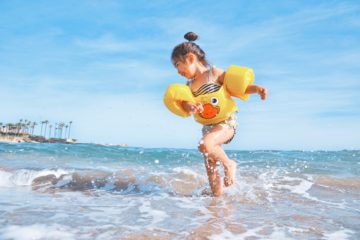 A family vacation with children and grandparents
Spend the best weeks of the year with the extended family. Your children will love you for it. And for the parents of younger children, it can be quite relaxing when the grandparents take care of the little ones.  When staying with grandparents, aunts, and uncles it might be wise to book adjacent rooms or apartments. This way, everyone has some privacy – if needed –  but can enjoy beautiful moments together with the family.
Let children have a say in the planning
The children like to play at the beach but the parents are planning a hiking trip in the mountains – this could lead to some problems. Therefore, it would be wise to let everyone have a say in the planning process of your perfect family vacation.
Less is more
Of course, in your holiday you like to discover new things and provide a lot of exciting experiences for your children. But the fact is, first and foremost children need time – time to lose themselves in making sandcastles or playing ball with newfound buddies and time spent with their parents. So, it is important not to overdo it with the activities. Children remember emotions and not places or fancy hotels.
The vacation begins with the journey
If adults are stressed when the journey is long and tiring, this is even more true for children. Therefore, plan ahead and allow enough time for breaks and distractions. And when you finally arrive at your vacation villa or hotel, relax. You can unpack later. First, take a stroll and check out the surroundings, dip your feet in the water and breathe….
We would be happy if our little list helps you to plan YOUR perfect family holiday.