Mallorca, one of Europe's most sought out holiday spots, has indeed much to offer to its visitors. It's famous beaches with crystal clear water, picturesque towns, and villages, as well as a stunning landscape, attract year after year tourists from all over the world.
But where should you stay when travelling to this pretty little Balearic Island? All Mallorcan regions have their own individual character, as you will see when we are traveling around the island in this blog post.
Northern Mallorca – welcome to the relaxed way of life
The Northern part of Mallorca is a charming puzzle made of highly attractive beach destinations, such as Pollensa and Alcudia and the pure beauty of the Serra de Tramuntana mountains, with their highest peak, the Puig Major (1445 m).
The northernmost point of Mallorca is Cap Formentor with the peninsula of the same name. Driving on the coastal route through the stunning landscape of Cap Formentor will be one of the highlights of your holiday. Some of the most picturesque bays on the island are here: Cala Pi and Cala Figuera.
Alcúdia – a traditional Mallorcan town
Alcúdia is known for its beautiful medieval city center with its narrow little streets, perfectly restored Roman houses, medieval ramparts, and an Amphitheatre. Nice beaches are not far away from the city center and lovers of nature and sports will have many occasions to indulge in their favorite hobby. The countryside around Alcúdia is beautiful and invites you to do some exploring, be it by car, bicycle or on a hiking tour.
There are two natural preserves near Alcúdia, S'Albufera, and S'Albufereta, which are both attractive spots for bird watching and simply enjoying the beauty of the Mallorcan countryside.
Pollensa and Puerto Pollensa – rural atmosphere versus beach life
Pollensa and Puerto Pollensa are located at the eastern end of the Serra de Tramuntana. The duo gives a perfect reflection of the two Mallorcan faces: the old town of Pollensa with its narrow little streets and ancient buildings has been able to save his traditional, rural atmosphere, whereas its charming little port, Puerto Pollensa is more lively and modern, relaxed yet with a sound touristic infrastructure.
One of Pollensa's most famous attractions is the Calvari Steps. Starting at the Calvari Square, the Calle de Calvari leads to a highly romantic chapel nestled at the top of the Calvari hill.
The main attraction in Puerto Pollensa is the splendid Pine Walk Promenade "Passeig Vora Mar". From here you can enjoy scenic views of the mountains and the turquoise water of the Mallorcan sea, sip coffee in one of the nice cafés or have a traditional Mallorcan meal in one of the restaurants.
Mallorca's east coast – a family paradise
The east coast of Mallorca is perfect for family holidays as there are many child-friendly hotels, as well as a great number of apartments and villas to rent for those who prefer to prepare their own meals. The coastline is varied and offers everything you are looking for in your holiday. You can enjoy the beautiful beaches or discover the foothills of the Llevant mountains.
Cala Millor – a tourist hot spot
Cala Millor is one of the more touristic cities in Mallorca. Its long and sandy beaches are surrounded by resorts, hotels and apartment blocks.
Porto Cristo – stone houses and white villas shining in the Mallorcan sun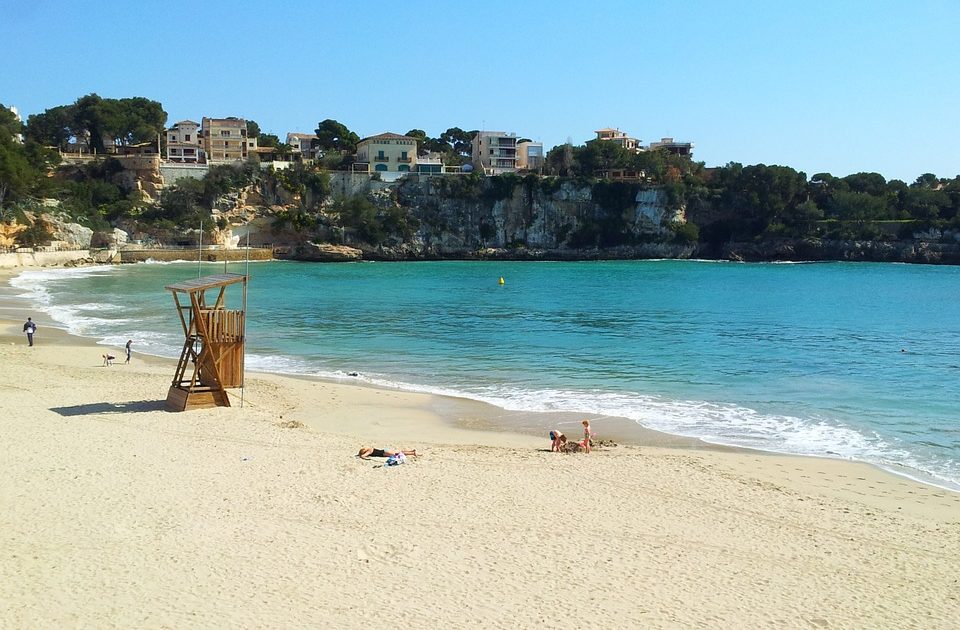 In contrast to Cala Millor, the small town of Porto Cristo is more quiet and authentic with many ancient stone houses and bright white villas. The city center is a maze of medieval little streets. Restaurants and shops are mainly to be found at Passeig de la Sirena, located near the port.
Santanyi – back to the rural image of Mallorca
In contrast to tourist hot spots like Cala Millor, Santanyi is a charming little town in the southeast of Mallorca. Traveling in this part of the island invites you to discover the authentic Mallorcan lifestyle. It's a perfect composition of history and modern times, a beautiful place to spend holidays if you are looking for a place away from the crowds. There is the fascinating nature to be explored; those who like to spend their leisure time with sporting activities like hiking and biking will be thrilled by the stunning countryside surrounding Santanyi and Cala de Santanyi.
But Santanyi has still more to offer: the area boasts more than 35 kilometers of perfect sandy beaches. So, if you are looking for a relaxing beach holiday in a quiet part of Mallorca, this is the place.
Southern Mallorca – idyllic and charming
The South of Mallorca is not a region with many famous attractions, neither are there any big holiday resorts. The character of this part of the island is rural and quiet. Idyllic spots on the coast and some little, charming towns make this, however, an interesting destination if you are looking for a relaxed holiday off the beaten path.
Cala Figuera – the most beautiful fishing village of the island
Cala Figuera is a former fishing village beautifully located at the bay of the same name. The village has been able to preserve its traditional charm. Cars are not allowed in the port area and there are no huge hotel complexes as there is no beach directly by the village.
Felantitx and Campos
Felantitx and Campos are two rural towns in the South of Mallorca. They are beautifully set between large fields and plantations and not very touristy.
They are however a good starting point to discover some nice attractions like Es Trenc, a natural beach with fine white sand, surrounded by a natural preserve. It is one of the most beautiful beaches of the island.
Mallorca's West coast – home of the rich and famous
Especially the Southwest of Mallorca is one of the most exclusive residential areas of the island. There are many VIPs that chose to stay in this region.
Port d'Andratx – stylish and elegant
Port d'Andratx – many consider it to be the most beautiful port of the Mediterranean Sea – is a fashionable tourist destination for the wealthier clientele. Beautiful villas and expensive cars abound, there are luxurious spas and Golf courses. The town is nicely set in a large bay, but there is no real beach.
Valldemossa – a picturesque little village
Valldemossa is a small village in the foothills of the Serra de Tramuntana. Because of its idyllic location in the highly romantic countryside and its picturesque little streets, it is very attractive for visitors. Besides its natural charm, there are no major attractions in Valldemossa. It is however famous for the fact that Frederic Chopin and George Sand spent the winter 1838/39 in the village.
Soller and Puerto de Soller – a hikers paradise
Soller, located approximately 30 kilometers from Palma de Mallorca, is the cultural and commercial capital of the Serra de Tramuntana. Both towns are a perfect picture of the authentic Mallorca. Since 2011, Soller is protected as a world heritage by the UNESCO. There is and never has been any mass tourism in this region, thus it is tailor-made for adventure tourism. Hikers and nature lovers, in general, will find their paradise here.
Deià – enjoy the mountain life
Deià is a fascinating little town perched on the Puig de Teix mountain (1064 m). The small village has become quite famous as many artists and VIPs spent some time there, for example, Pablo Picasso, Peter Ustinov, and Pierce Brosnan.
Adding to the attraction of Deià is the splendid bay of the same name, Cala de Deià. It is a romantic spot with a pebble beach and natural caves. Nearby is also Platja de Llucalcari, a beautiful beach surrounded by cliffs.
Palma de Mallorca – Mallorca's capital
Palma de Mallorca, the capital city of the island, is a place which is always worth a visit. The town has everything one can look forward to in an exciting holiday, from excellent shopping spots, a historic city center, long sandy beaches to the famous Mallorcan nightlife.
There is plenty to see in this lively town which is nicely located at the 20 kilometers long bay Badia de Palma. Family vacation or city trip – everything is possible in Palma.
If you are looking for a relaxing beach holiday, you can find it here, as Palma has around 6 kilometers of sandy beaches – and not all of them are "party areas".
But Palma is also a gem for visitors interested in history and culture. The city has a rich historical heritage and beautiful buildings, places, and narrow little streets are everywhere throughout the city center.
The most famous historic building is the La Seu cathedral overlooking the city. This splendid gothic church is also known as "cathedral of light" because of its wonderful play of light in the stained-glass windows.
Palma's historic city center is a maze of little streets, places, and steps. Cars are not allowed in most of the streets, so it is perfect for taking relaxed strolls and soak up the lively yet relaxed vibe of this sunny town.
Of course, the city is also perfect for extended shopping tours. Best places for shopping are Passeig d'es Born and Passeig de la Rambla.